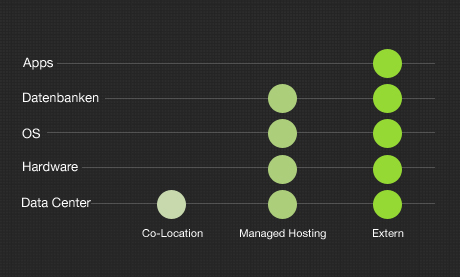 Managed Hosting
//

Introduction
Flexible quality hosting without compromising
conversis supports you with flexible, scalable managed hosting solutions. Our technology guarantees you high performance and sufficient capacity at any time; we can also manage these hosting solutions for you, if desired.
With a pure hosting solution, you rent a server that must be independently managed and maintained. This entails time and effort, and requires the appropriate in-house expertise.
Managed hosting environments from conversis are the ideal solution for companies. Individually designed server and service setups guarantee you sufficient system resources at all times, therefore providing maximum speed for your web application or website. At the same time, you retain full access rights to your applications and remain independent and able to make changes as required.
Concentrate on your core business, and leave the hosting and operation of your web portal or web application to a team with ten years of experience.
Benefits
Individualized additional services
Our experts are available for a wide range of professional and support services from which you can configure your individual service package. You and your customers receive first-class support from our experts, saving you both time and money.
Whether security-related add-ons, such as backup servers and firewalls, or complex load balancing and storage concepts, our experienced hosting experts can solve problems without having to carry out lengthy and cost-intensive tests beforehand. This experience distinguishes us from our competition, and our customers appreciate this reliability.
Your server or server system as a basis
The core of your managed hosting solution is a dedicated server system, which is exclusively reserved for your company. Our team provides a wide range of support services, from the selection of components to system maintenance, and is available 24/7, 365 days a year, if you should encounter difficulties. Whether a hardware defect or software error, we are at your side in the case of any emergency.
Our managed hosting team develops and implements IT concepts to meet your individual IT needs. We can provide the ideal arrangement of cluster and storage solutions, firewall set-ups and load balancing concepts for your needs.