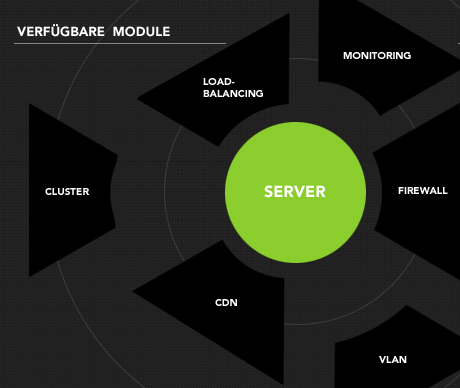 Managed Hosting
//

Additional services
Individual hosting tailored to your needs
Together we prepare a customized concept for hosting your data, and assist you in selecting suitable physical architecture, as well as the correct services for your company.
We offer many established services, as well as some very specialized services, which can be booked in addition to the existing hosting.
If you have specific performance targets already in mind, our team can help you create an appropriate concept and introduce suitable measures to reach your goals.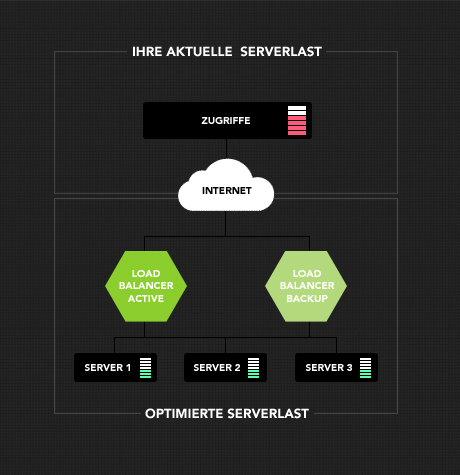 Load Balancing
Performance server set-ups for websites or web applications with heavy traffic require a sophisticated load balancing system to distribute the incoming traffic evenly to all existing servers. In the case of increased enquiry frequency through many parallel access points, the primary issue is to provide good performance and accessibility.
Managed load balancing services from conversis distribute the entire traffic load dynamically to several servers. If a server becomes overloaded or fails, reliable accessibility and performance continue to be guaranteed because other server systems automatically take on the load of the overloaded server. Your data is safeguarded by constant performance data distribution, as well as by fail-safe operation.
The load-balancing package can be used for practically all kinds of Internet traffic. As your requirements develop further over time, we can adapt your setup to provide the services required for uninterrupted operation.
High availability cluster
The use of clusters is well-suited for platforms in which the availability is paramount. If a network node fails, an image of the failed server is created in real time with all current services and their settings. At the same time, a different server uses this image to continue the processing of the failed server. The probability of a total failure is reduced to a minimum, and preventive measures are introduced for this highly unlikely occurrence.

Monitoring
Failures, whether of the entire hardware system or only a certain programme, can bring business processes to a complete standstill. With reliable monitoring solutions, we monitor your server from the individual ports to the individual processes. You determine the interval of individual tests and are notified in real-time about any type of failure.

Firewalls
The security of each individual customer is the focus of our attention. Upon request, we can also install dedicated firewalls with special FailOver technology made by the largest brand name manufacturers. This means your servers and all data contained on them are protected in the best possible manner against unauthorized access.

Content-Delivery-Network (CDN)
The distribution of your data can be dramatically accelerated by using a world-wide CDN. Your content is outsourced to servers positioned around the globe, and customer inquiries are re-routed in real time to the nearest location. In this way, response times are minimal and data transfer rates are increased to a maximum. Precise billing guarantees that you only pay for the traffic that is actually incurred.

Service-Level-Agreements (SLA)
The general conditions for the services provided are described in individual service level agreements. This creates transparency and clarifies issues concerning availability, response and fault clearance times, privacy guidelines, service procedures, technical controls and data ownership.